Srivatsa
We really enjoyed the teaching of NPN Training the very first class the demo given by Naveen sir was excellent. And also the NPN Training website for chapter wise questions given to Java & Hadoop is good, so that we will have access to the website and read it for a quick start. Also the video played during the break was good.When compared to other insitutes the fees is less. The best thing is the PPT's were really excellent by seeing the PPT's the concepts gets cleared.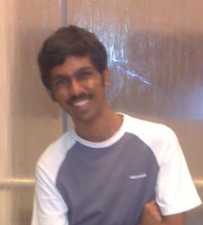 Yateesh Kumar M.N
VM Ware
I came to NPN Training to understand buzzword "Hadoop" and why big companies are using "Hadoop" even though relation database offer plenty of solutions. NPN Training made me clear about scalability problems RDBMS and how Hadoop is solving them . Real life examples, asssignments and Naveen's experience make me realize that "Hadoop" is a problem solving tool instead of buzzword. Logical explanation to doubts, comparision to RDBMS, hands-on and real life examples makes NPN Training one of the best training institute in Hadoop. Only regret I face after joining NPN Training is that I should have joined much earlier batch for learning Hadoop.

Mohan Gowda
I was a new comer to this software field,basically i am from mechanical,when I attended the demo class first I felt that I can learn a lot about software even though I was new to this. As the days passed I learnt to write and understand the Java programming.Naveen sir teaches from basic and his teaching is very interesting.He also makes every one understand in an easy way.None of his classes were bore.Naveen Sir also shows good motivating videos during break time which is very good.I was actually eagerly waiting for every saturday to listen his classes and more important thing is about the fees he charges is very less compared to other institutes. Regards Mohan Gowda

Shivaraj
The 1st day, when i join NPN Training I felt happy about Naveen , because he explained which is best fit for IT-Industry. What we need to learn adn what not that feels me so impressive. Being experience in industry immediate kick-off is most important aspect in carrer. Secondly, the topic which sir covers so extensively is superb moreover teaching passion is seen. The way house is not built directly, he thought us java step by step which gave us strong foundation in java. Naveen sir teaches in high pitch with so patiently take every one views, questions is very excellent. As per my knowledge you want to learn/expertise in selenium you go ahead without any hurdles or confusion and join NPN Training. If you miss any class sir only tells you to come on this time or this batch which is really awesome. Regards Shivaraj

Yogesh H.R
Hi , The NPN Training Institute is one of the best of best isntitute. The classes give practical exposure to the Programming Languages. The materials are very good and Naveen teaching way is really nice , Once any student attends the classes definitely they will inform to others. At end you will be able to write programs on your own.The way Naveen guides is really excellent , the students gets a strong base in their career.